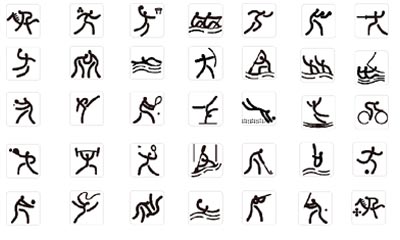 Seal script style Olympic icons
I enjoyed the look of these icons quite a bit, apparently they were unveiled two months ago:
The rowing icon doesn't look too much like a seal script character, and neither does the bicycle, but it does look pretty nice. The golf one almost looks like the actual seal script character for 爪, though that character actually means "claw."
I only happened to find it by looking at an article on a bar that allows customers to beat up the staff. That article says there are similar bars in Japan, but I never heard anything about a bar that allowed customers to physically injure staff in Japan. There are places in Japan where people choose to get tied up, but this seems more like a way of justifying closing the bar if people get angry about it. Just blame it on Japan, even though there is no actual connection to Japan in the article.
One Response to "Seal script style Olympic icons"
Blame Japan! 🙂 Very cool Olympic seals. I looked out for the crew one. Crew is one of the MIT experiences I very much miss…maybe I can use a rowing machine or get back into it at some point…